Adventure Day at Scape Park Cap Cana
Caribbean » Dominican Republic » Southeast » Punta Cana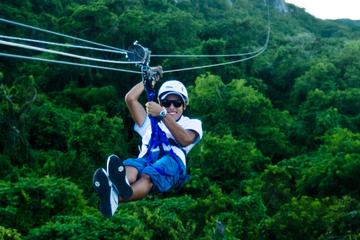 (5.0)
Duration: Varies
Departs: Punta Cana, Dominican Republic
Price from USD 64.99
Book Now
Enjoy a thrilling eco-tour at Cap Cana's Scape Park, where you can drive a 2-person buggy or combine the buggy tour with a 2-hour zipline adventure option for the ultimate jungle adventure! Follow your guide down back roads on your ATV beach buggy, with a pitstop a a beach to enjoy the beautiful Caribbean scenery, and soar through the canopy on eight ziplines and climb a suspension bridge. If you opt for a combo tour, you'll have six hours to spend, including lunch. Choose from morning or afternoon departure times.
Cap Cana, situated on the eastern tip of the Dominican Republic, is an approximate 7-minute drive from the Punta Cana Airport. After hotel pickup, your guide will transport you to Scape Park, an eco-adventure park that blends easily into the surrounding natural landscape.
Depending on which option you've selected, hop on your buggy for an exciting ride, harness up for your zipline tour or embark on both through the jungle! Your trained guide will ensure your safety at all times, and stop for a break for bottled water and soft drinks (or lunch if selected). (See Itinerary below for full descriptions of each tour.)
Photos, videos and souvenirs of your adventure are available for purchase (own expense). You'll have a chance to buy snacks and additional beverages at the cafeteria before return transport to your Punta Cana hotel.
« All Activities