Shark Encounter at Ocean World
Caribbean » Dominican Republic » North » Puerto Plata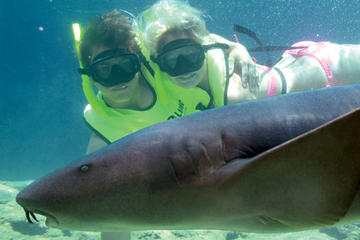 (5.0)
Duration: Varies
Departs: Puerto Plata, Dominican Republic
Price from USD 78.99
Book Now
Glide across the surface of a pool with a mask and snorkel as you are surrounded by a small school of nurse sharks. Reach out and touch the backs of these friendly sea creatures! These magnificent creatures look fearsome but are friendly, so you're perfectly safe to swim and enjoy the sensation of the sharks moving around you.
Ever dreamt of getting up close with an ocean predator? Book a Shark Encounter today to experience what very few people are fortunate enough to encounter in the wild! This tour is something only few people get to experience!
Of all marine creatures, none is more fascinating than the shark! Ocean World is the only marine park in the world to offer guests the chance to hold, to touch and to explore the deep sea secrets of the nurse shark. Under the close supervision of trained staff members, you will touch, hold, feed and ultimately swim with a small school of adult nurse sharks. These magnificent creatures, some as long as 7 feet, will amaze you with their sandpapery skin, their fearsome teeth and their relaxed attitude towards humans, giving you an understanding and an appreciation of this beautiful and awe-inspiring creature that very few people will ever share! This is truly the adventure of a lifetime and a rare opportunity to meet nature on its own breathtaking terms.
Combine with a Dolphin Swim Program

Dolphin Swim: The Dolphin Swim is the most popular program at Ocean World, it ultimately gives you the chance to experience a truly personal encounter with the dolphins. For 30 minutes you will spend some special moments in the water with the dolphins, sharing a kiss, hugging, dancing, feeding, petting and swimming. A 'human hurdle' and a spectacular dorsal fin tow will finish off the program!
Admission is included when you book this interaction program.
« All Activities